Valentino chocolatier is a prestigious Belgian chocolate producer, a family business that in its more than 40 years of existence has grown to become one of the leading ones.
We talked to Valentino, its founder and a great friend with whom we make our exquisite Ostatu arrope chocolates.
The co-founder, Helen's grandmother, was in love with the famous Italian actor Rudolph Valentino, is that where the business name came from?
When we opened our first shop in 1986, we had a lot of ideas storming in our brains, but finally, we choose Valentino for several reasons:
First, Valentino has a relationship with chocolates because of Valentine's day.
Second, Valentino sounds well in all languages.
Last but not least, Helen´s grandmother point was the Cherry on the top.
It actually brought some confusions, as people often asked as if our chocolates were Italian… We had to convince the public that the chocolates were really made in Belgium!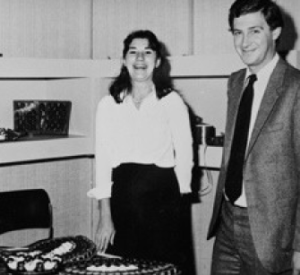 Valentino is synonymous with love, detail, family, and union. How did this passion for chocolate and this artisan way of making it come about?
First of all, you have to know that Belgians buy chocolates as a gift for special occasions like anniversaries, weddings, Valentine's, Christmas or Easter, or just as a way to thank people.
These are special occasions when people come together to celebrate, that is why industrial chocolates are not consumed and made in Belgium.
For these moments the people don't buy industrial tablets, but they prefer high-quality handmade chocolates to share with family and friends.
This fact, made our passion for chocolate-making flourish, sharing moments packed within high-quality chocolates.
Every month you know how to create excitement and expectation because you create a new sort of chocolate. A good way to generate interest, a commercial strategy, a way of demonstrating your concerns… or a bit of everything?
On the one hand, we stimulate our chocolatiers to come up with new ideas which lead to product innovation. By the way, the chocolates with the highest score are selected into our standard assortment.On the other hand, we bring fresh experiences to our regular clients and consumers, so when they walk in our shops can have a taste of something different to experience and share.
In Brussels, you have 5 wholly-owned shops with 7-meter long chocolate counters with 100 different varieties. How do you manage all that?
We started to invest in our own shops because we were not satisfied with the way some of the clients managed the shops.
Basically, we created Valentino in order to contribute to people, which means to bring something extra, different, that cannot be found anywhere else. Therefore, we have not stopped investing in ourselves. The secret is, keeping our staff well trained and high levels of communication with the internal and external customer. Our shops do represent 35% of our total sales.
You also have shops in Spain and France, how are you linked to these countries?
Belgian chocolates have a good reputation within the whole entire world.
Our first export clients were shops in France, then we found an importer in England and later on, Spain.
At this very moment, we are exporting to over 30 countries around the world, mainly Europe, the USA, and even China or Japan represents a big piece of the cake.
In some of the countries, we sell directly to the shops, in other countries we have a distributor.
We are participating every year at the ISM trade show, the biggest chocolate-wise in the world. We also participate in the Alimentaria trade show celebrated in Barcelona with our Spanish partner.
Moreover, we are doing a considerable investment in our website, as these days is one of the main channels.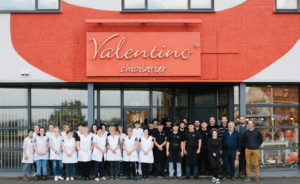 How did both companies got together?
We first met Ostatu on our first trip to Spain, and we were very much impressed by the winery and the surrounding landscape of Rioja Alavesa.
We also met the family and found the same spirit involved as our family does, very well reflected on the Wines.
In our shops we are selling a lot of gift baskets or gourmet baskets, these are a combination Of chocolates, biscuits, marmalade, and Wines. So we decided to make the first order and introduce Ostatu to our customers.
What did you like of Rioja Alavesa?
We really love the landscape of the Rioja Alavesa, how the Toloño-Cantabria range of mountains cover the vineyards. Furthermore, the capital of this region, Laguardia is a lovely place to visit and stay.
If you had to pair one of your chocolates with one of Ostatu's wines, which ones would be a good match?
Ostatu Wines mainly have a big presence in the palate, so a bar of dark chocolate with a high cocoa content would be a Good option. I would suggest our Noir de Noir with an 80 % dark ganache filling, but for those that might feel it overwhelming, I would promote the truffles that we make together with their arrope.
What would you ask for this 2022?
That is a big question… that deserves a big answer. I do hope, we could see the ending of this covid pandemic soon. So we can clear the air off of this fear and get back together in order to be able to share again more of these mentioned "Valentino moments".