When we finish and a new year begins, we always tend to recapitulate what the cycle we are closing has brought us and we make resolutions for the next 365 days that we have already advanced.
At Bodegas Ostatu we have had time to get to know some restaurants a little better, such as Sutargi, The Bost, Goiko Benta or Asador El Puerto; we have enjoyed discovering the more personal side of Iñigo and Aitor; we were honored to receive the "Sustainability 2021 Award" for our "Vinebiodiversity" project; we launched Valdepedro, our new singular wine without added sulfur and we gave you a summary of what we experienced in the 2021 harvest, to finish the year by presenting 3 new launches of new vintages of special wines such as Reserva, Gran Reserva, and Gloria de Ostatu.
A small sample of what this year has been like for all of us who are part of Ostatu, but this year 2022 we are sure it will be even better and to start it off well we bring you the new vintages of our young wines: Ostatu Red, Ostatu White, and Ostatu Rosé.
Ostatu Tinto 2021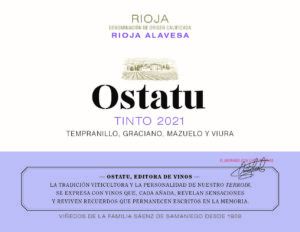 Made from 92 % Tempranillo, 6 % Graciano and Mazuelo, 2 % Viura, this young carbonic maceration red wine has an attractive bright cherry color complemented by refreshing red fruits and flower petals aromas.
Smooth on the palate and velvety throughout, Ostatu Tinto pairs perfectly with veal or lamb.
Ostatu Blanco 2021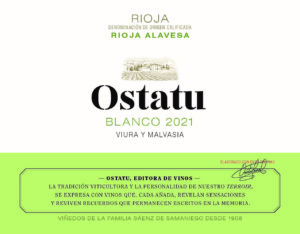 This fresh and fruity wine, with a strong personality, has a yellow color with greenish edges that is enhanced by its primary aromas of flowers, white fruits, and subtle herbal hints.
Very balanced, fresh, gourmand, and with a certain unctuousness. It stands out for its intense acidity that increases the aftertaste. Wonderful with delicious aperitifs, white fish, marinated meat, or seafood.
Ostatu Rosé 2021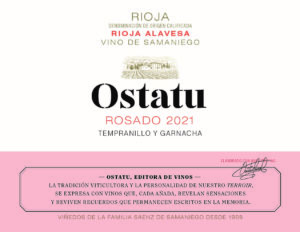 Bright and luminous, Ostatu Rosé is made with Tempranillo, Garnacha and Viura from the highest areas of our vineyards.
With a fine and elegant expression, it has a great balance of flavours, fruit intensity and warmth that pairs very well with appetizers, vegetables or pasta.
Three new vintages for these three young wines that are joining our latest releases:
Ostatu Reserva 2016
Ostatu Gran Reserva 2015
Gloria de Ostatu 2015.
This is how we start up 2022, with many good intentions and our best wishes to accompany you during this new and promising year.